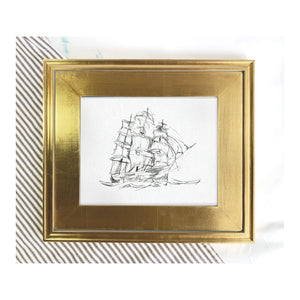 A canvas print mounted on hardboard, and finished with an classic plein air gold frame. The sturdy canvas is able to be framed without plexi, giving it the art the look of an original painting.  The canvas is archival-grade, meaning it is designed to last a lifetime and resist fading under any light. You can be sure your beautiful print will be enjoyed for years to come.
ABOUT THIS PIECE:
Growing up in Connecticut, tall ships were omniprescent in decor. In my own home and those of friends and family, a traditional painting of a tall ship was standard. Perhaps this was a result of Connecticut's beginnings as a home to multiple seaports, or perhaps simply because of the classic design sensibilites of it's residents. 
Upon moving to the North Shore of Boston, I again encountered the appreciation for these classic images, no doubt inspired by the rich trade history of Salem and modern fishing mecca of Gloucester.
I've always loved this style of painting and wanted to experiment with a more modern interpretation of this early American subject. What resulted was a series of pen and pencil drawings of famous sailing vessels.  Sovereign of the Seas was the star of the series as it feels alive with movement and gives new life to an image from the past. 
SIZE:


Select your size from the drop down menu. This frame is 2.5" wide and will add 5" to each dimension. For example, the 5 x 7" print will be 10 x 12" as framed.
MATERIALS:
Print is on flat, unstretched canvas, mounted on board
Frame is solid wood with gold leaf, hanging hardware is installed and art is ready to hang
SHIPPING: 

Ships directly from the artist in 3-7 business days