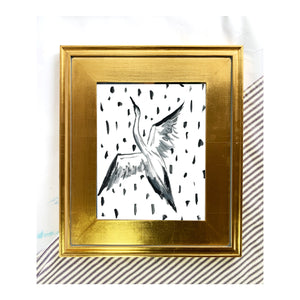 The inspiration for this collection of crane paintings was drawn from traditional textile patterns and decorative arts that depict these birds.

Cranes have been utilized as symbols for various virtues such as longevity, faithfulness, aspiration, and immortality in art throughout history. From Egyptian relief carvings to Chinese ink paintings, European wall coverings and beyond, these birds have been prevalent across numerous cultures.

By showcasing these graceful birds against a plain background, the paintings take on a decorative quality that emphasizes their pattern-like appearance.

MATERIALS:
Gouache paint on heavy weight paper, framed in a traditional gold plein air frame.

SIZE:

5 x 7" art dimensions.
10 x 12" frame dimensions.

SHIPPING:

This item ships directly from the artist's studio. Paintings are carefully packed with cardboard and bubble and shipped in a cardboard box or crate.

ABOUT:

This painting is part of a collection of works by Hillary Holmes inspired by traditional bird motifs found in the decorative arts of Europe and Asia.